Muhammad A. Moniem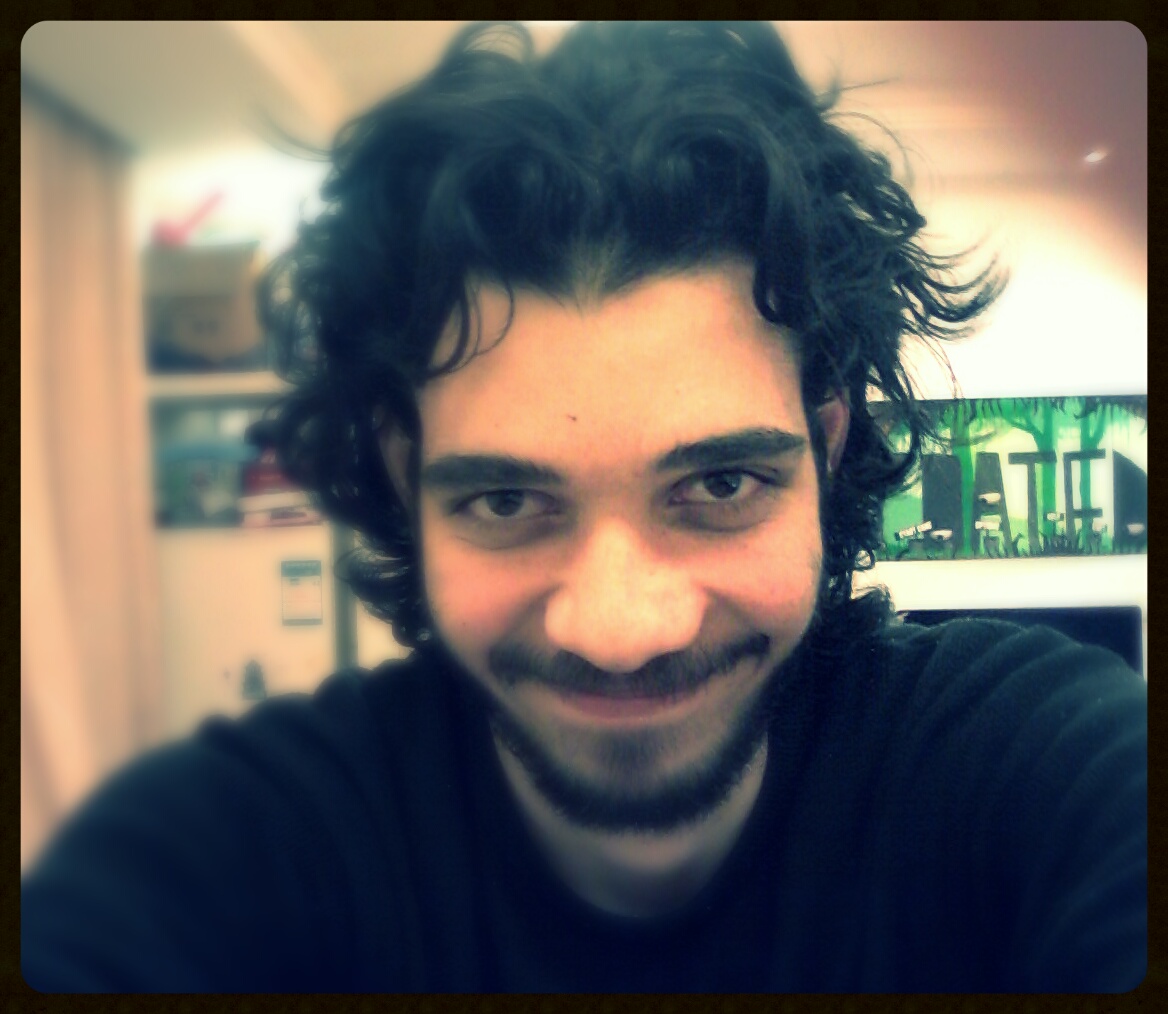 Moniem is an Egyptian indie game developer who has lived and worked in Shanghai for 3 years. He has released 2 games on Desura. Both games were developed entirely during his spare time and the team member was just himself. Coated is his latest game, and it made it's way to the Finalist of IGF China in 2013. His website: http://www.mamoniem.com/ Coated: http://www.coated-game.com/ Coated Trailer: Coated His steam greenlight page: http://steamcommunity.com/sharedfiles/filedetails/?id=184388370  
"It's not Seattle, it's Shanghai."
Moniem was born in Egypt with a spirit of independence and adventure. He has made up his mind that he wanted to devote his life to the computer science since he was young. The education system and software industry in Egypt, however, disappointed him. He could not pick computer science in the college, and even if his entire self-taught skills reached professional level, any of the software companies in Egypt would be far less than ideal occupationwise in his opinion. He therefore decided to travel, or to venture, to be more precise. His plan was simple: try to find some place in which he could have an experience of being a foreigner. "Then I worked in several countries in Middle East." Said Moniem. But the experience was far from being a foreigner, since they all speak similar languages, and the life there was still similar to the one back in Egypt. "I started to look for opportunities in the US, and I got accepted by a company from Seattle." They were actually recruiting people for their company in Shanghai. "I think, OK, I've never been to China before." Without much hesitation, Moniem flied to Shanghai.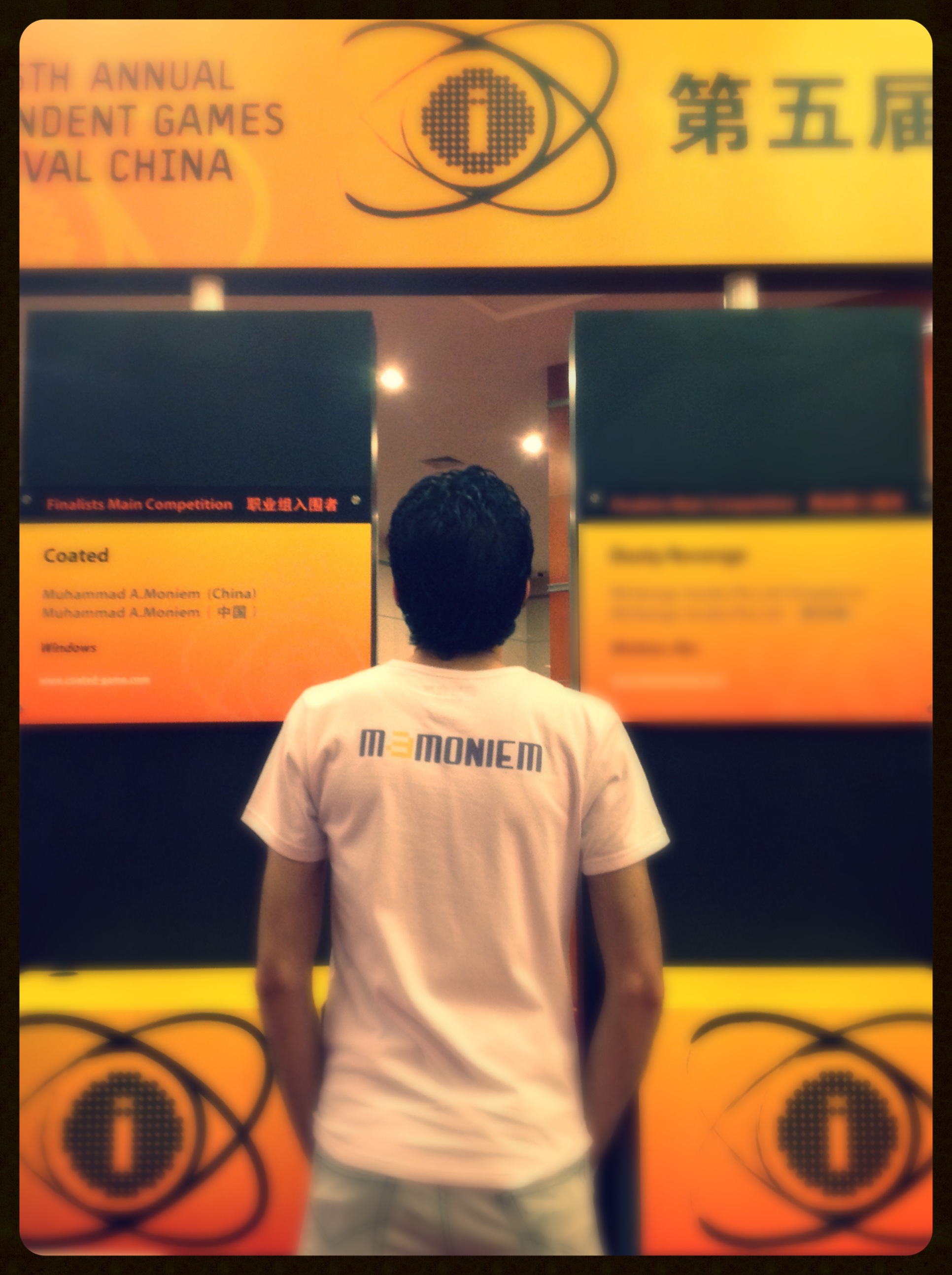 IGF China
"Being an indie person is a matter of several reasons."
Moniem started as a programmer, and then he wanted to know more about art. After several years of doing 3-D art, he wondered, if he could use these art work in his own game. On the other hand, Moniem is also passionate about learning new stuff. The idea of making his own game using skills that he did not know occurred naturally to him. He used to do 3-D objects and enviroment, for instance, but in Coated he began to learn 3-D character modeling. Since Moniem has worked for many companies, he knew very well that the companies rarely value every individual's idea. This is another factor that motivates him to make his own game. By making his own game, Moniem can express his own idea as well as his philosophy as for what his game incorporates. A cute story of his son also explains why he wants to be an indie person.  When Moniem was preparing for the IGF show case, his son saw the QR on the banner alongside the icon of Coated. His son correlated the QR with father's game, and later every time his son saw a QR, his son was excited and shouted, "That's my father's game!" Moniem made something that his son would be proud of. This would satisfy every father, and Moniem was no exception. To Moniem, the significance of making one's own games is all about self-satisfaction. He loves making games; he wants to learn something from making games; he is eager to express himself through game; and nothing would make him happier than to see players enjoying the games he made. "Being an indie person is never about making money," said Moniem, "You know, in cartoon for instance, when the characters' eyes are filled with the dollar signs, they are going to get themselves in trouble. They will act like zombies, and see nothing else."
"When you learn things from the internet, you select the most important ones."
Most of Moniem's professional skills are in fact self-taught. This is due to the fact that when he lived in Egypt, there were few to none people around to ask. He either has to work hard to solve the problem by himself or to ignore it.  Although he does not know fancy names of a certain algorism, he is capable of doing his job. Moniem holds a very practical view about programming and anything else; namely, he does not care about the academic theories that much, as long as he can handle the work. Websites are the main source of his knowledge, such as Youtube, Stack Overflow, Tigsource, Makega.me etc. Youtube is a treasury, since you can find any kind of tutorial videos there. He also suggests indie developers to go forum like tigsource and makege.me, as people there know about how to make game and are sometimes looking to hire developers online, and tend to give critical and useful advice.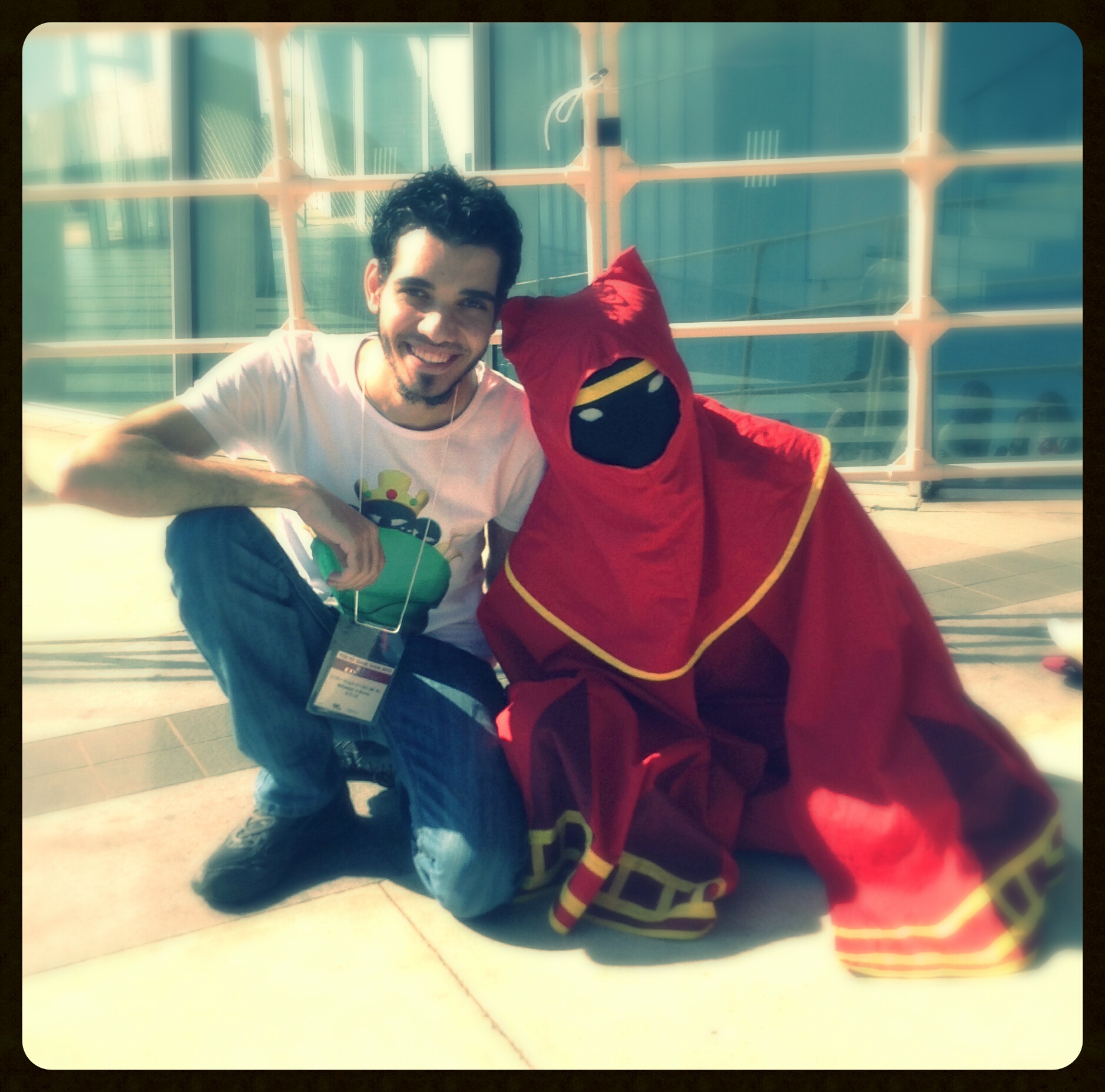 TGS
"It depends on the artist, not the tools."
            Game designers always have their unique approaches of making game and tool choices. Moniem shared his personal favorite with me. Moniem does not use prototypes. He prefers to sketch something at first, and websites such as Google Image or Pinterest are usually his favorite places of finding photo references. He uses assets instead of place holders, because it provides him with a more vivid way of looking at the game. Moniem always tries to determine the game engine and platform as early as possible, as this would affect the modeling, texture and other asset-related aspects. Optimization should also be considered early on, Moniem suggested, since this might reduce the amount of work later. As for the organization of documents, Moniem uses Trello, Bitbucket, and Github, for they all have their specific strengths. Trello (Trello is a Scrum website. Scrum is a type of Agile.) has a color system, which makes categorizing different types of documents easier. Github is powerful for version control, but only paid users can conceal their documents from the public. On the contrary, Bitbucket is free, but it limits the team size to 5. Moniem uses Maya and 3ds Max for 3-D art, but he also likes Blender, for blender is free and a good all-around tool. Anime Studio is his first choice of making 2-D animations. Photoshop is a great option as well. Moniem uses wide range of game engines, especially Unreal Engine,because it is a good choice for low-budget indie developers. In the past Moniem paid composer and went websites like Audiojungle and Melodyloops to buy music for his game. But now he has started to learn music, hoping that we would hear his own melody in his future games.
"I feel like I want to sleep."
            This is all Moniem wants to do when he finally reaches the end of a large project. He has a full-time day job. If he wants to work on a large project, he can only get little sleep. At first he considered forming a team, but he was very disappointed, as other people in his team did not share the same passion with him. He is willing to quit freelance job because of his game, while the teammates are reluctant. He is willing to sleep for 3 or 4 hours every day because of his indie game, while the teammates are reluctant. As a result, he remains the only member of the team now. His family is supportive, and without them his games would never thrive. When he went to the IGF China 2013, he brought the whole family with him. As he told me, the success of his game was never his own, but his whole family's.
"Start as soon as possible, as small as possible."
Regarding making indie games, Moniem has a neat suggestion: start as soon as possible, as small as possible. The first part comes from his personal experience. Once he had a brilliant idea, and began to prepare it. Several weeks later, the game with the similar idea was released by another team. The released game was a 2-year project, so no plagiarism involved. When you have an idea, do it fast, for someone from somewhere might have exactly the same idea. The second part is a common mistake of novice indie developers. They tend to plan something that goes beyond the team's capability. When people are making indie games, they should take the team size into account, and try to figure out a way to make games that match it. Moniem is a developer with passion. Without much rest after the last game, he continues to work on another project. I wish him all the best in the future. J_Lu